Black consumers today represent 14% of the U.S. population and nearly $2 trillion buying power. And to make inroads with this growing and influential group, brands are investing heavily in media to try and turn audiences into buyers. Nielsen's 2022 report on Black inclusion in media found that, in the first half of 2022 alone, more than 6,000 advertisers spent over $1.2 billion trying to connect with Black and African American consumers.
And while some media outlets can fail to resonate with Black audiences, audio—especially radio and podcasts—stand out as efficient and effective channels to engage the Black community and even influence purchase decisions.
Radio, the original ad-supported medium, reaches 92% of Black consumers monthly, and the addition of unduplicated audiences from ad-supported and ad-free streaming music services, podcasts and satellite radio, brings total reach to an incredible 99%. And when you combine reach with exposure time—Black consumers spend over 20 billion minutes with radio in a given week—it's easy to see the opportunity audio provides for advertisers keen to connect with Black audiences.
A daily companion for millions, radio can be a particularly effective medium for advertisers because it reaches consumers during peak action hours while they are out of home commuting, working—and shopping. And with time in vehicles on the rise after several years of pandemic disruption, radio continues to be the primary audio source for Black consumers in the car.
Of note is the exceptional draw of Black-owned radio stations and their ability to attract and engage Black audiences. Among all audiences, Black-owned radio stations reach 11 million listeners weekly with Black consumers making up 6.2 million, or 56%, of the total audience. In fact, nearly a quarter (21%) of the total Black population is reached by Black-owned radio stations, representing a huge opportunity for brands and advertisers to meet Black consumers where they are—in the car and tuned in to the radio.
Advertisers are beginning to take note of the power of Black-owned stations and are investing accordingly—2022 saw an 80% increase in ad spend with Black-owned radio stations compared to the same period last year.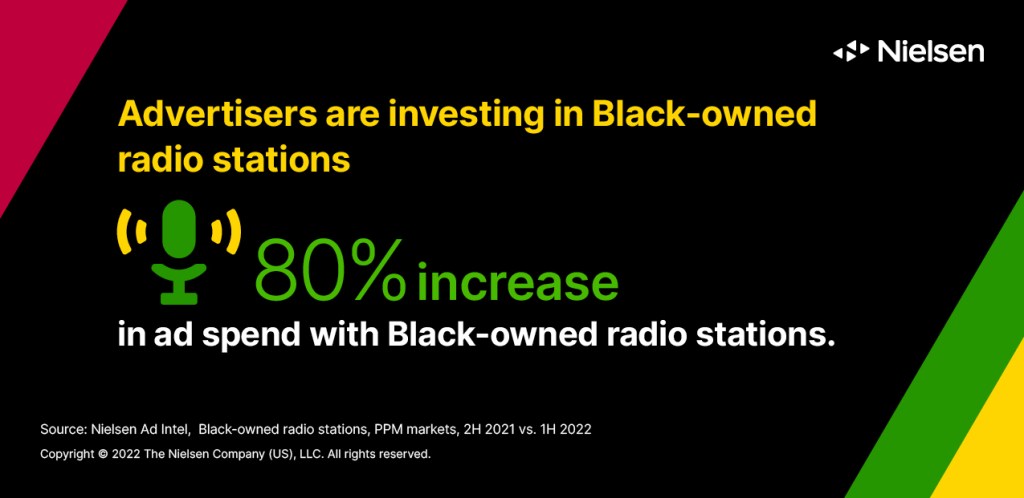 But even with such incredible scale, Black-owned outlets have not always been a part of the media plans designed to reach Black consumers. Brands and advertisers can change these disparities by proactively seeking out partnerships with Black-owned stations, and investing in content that matters to the Black community.
"Authentic messages, delivered by the voices who are part of the Black community themselves, is an unbeatable combination," said Deon Levingston, Regional Vice-President Radio One. "Listeners trust Black-owned media outlets, and they reach audiences where it matters, locally and nationally, always providing a microphone to amplify the voice of Black America."
Partnering with Black-owned stations doesn't just increase reach, it can also help advertisers keep their brand top-of-mind with consumers when it comes time to make a purchase. Home and personal care brands, for example, can work with Black-owned radio stations to build their brand awareness among Black consumers who are more likely to switch to a new brand based on reputation, according to Nielsen Scarborough. In the year ahead, investing with Black-owned stations presents opportunities for brands to build trust, credibility and their customer base.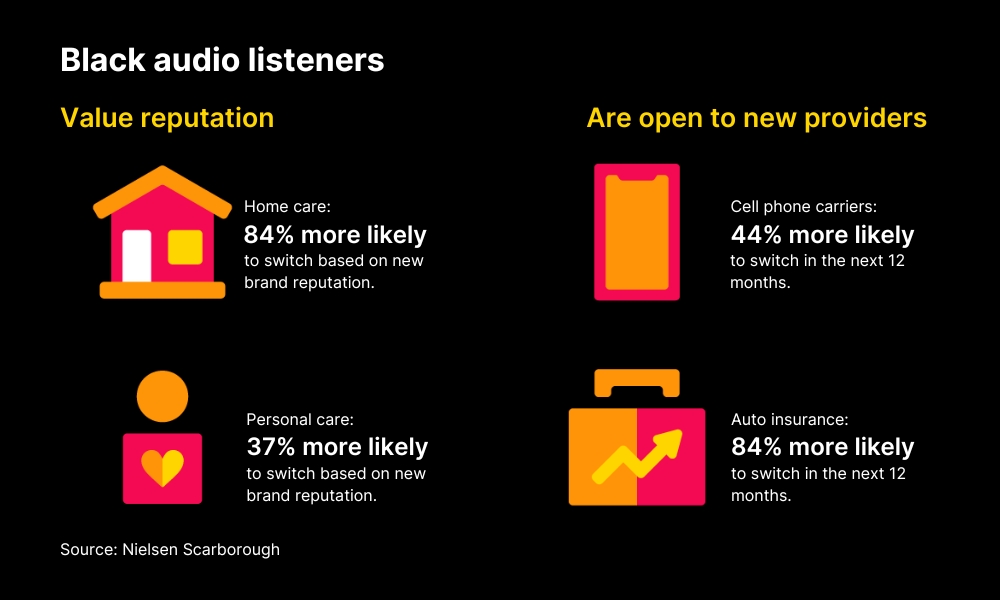 Radio isn't the only audio channel making an impact with Black listeners. Podcasts are also becoming increasingly popular with Black audiences, with 35% of Black daily consumers just starting listening to podcasts within the past two years. And Black podcast audiences are listening more often and to more titles than they did two years ago, with 44% saying they listen more often, and 35% saying they listen to more titles4.
With trillions in buying power at stake, advertisers can't afford to miss with Black consumers. And while new media like streaming and social media are taking over ad budgets, brands and advertisers looking to maximize reach and impact with Black audiences should embrace audio as an integral part of multichannel campaigns.
Notes:
2020 U.S. Census
Selig Center for Economic Growth, Terry College of Business, The University of Georgia, June 2021
Nielsen Ad Intel, Black-owned radio stations, PPM markets, 1H 2021 vs. 1H 2022
Nielsen Custom Consumer Sentiment Study, March 2022