Global attitudes about the LGBTQ+ community have evolved dramatically over the past decade or so, and with more choices for content than ever before, LGBTQ+ audiences are being more socially conscious about the brands they choose. For advertisers wanting to make inroads with the growing LGBTQ+ community—and their buying power—inclusivity is everything.
While there has been significant progress in representation the past 20 years, one group still struggling to see themselves in advertising is the Black LGBTQ+ community. Nielsen's 2022 report on Black inclusion in media found that only 9% of U.S. advertising is directed toward content inclusive of Black LGBTQ+ talent. And subgroups of the LGBTQ+ community are seeing the largest lack of inclusion. Representation of gender non-binary identities, for example, is seen as the least inclusive among advertising with 88% of Black LGBTQ+ people ranking this as non-inclusive compared to 81% overall1.
This representation gap presents a major opportunity for advertisers to connect with Black LGBTQ+ consumers, as they are more likely than the general population to be very comfortable with brands targeting them as consumers based on their sexual orientation and/or gender identity.
To connect with Black LGBTQ+ audiences, advertisers need to focus on inclusion, but that inclusion needs to be authentic to be effective. Yet, advertisers are missing the mark when it comes to accurate, intersectional representation. According to Nielsen's 2022 International LGBTQ+ Report, 54% of Black LGBTQ+ people say avoiding stereotyping is the number one way to improve inclusivity in content—higher than both LGBTQ+ respondents (50%) and total respondents (45%)—signaling that the community feels overly-stereotyped by advertisers today.
We recently spoke with Myles Worthington, Founder and CEO of WORTHI, for a more in-depth discussion about the importance of Black LGBTQ+ inclusivity in media.
Advertisers looking to create more personal connections with Black LGBTQ+ consumers should partner with members of the community, and many are reaching out to social media influencers to be the face of their campaigns. And when it comes to influencers, Black LGBTQ+ consumers want involvement—21% of Black LGBTQ+ people cite commitment to the community and social responsibility as the most relevant attribute they look for in an influencer, outpacing total respondents (17.8%) and LGBTQ+ respondents overall (19.8%)1.
Finding and partnering with the right influencer can increase more than your follower count and video views. According to the 2021 Nielsen Trust in Advertising study, 71% of consumers trust advertising, opinions and product placements from influencers, and influencers drive 80% brand recall and a 9-point increase in both brand affinity and purchase intent relative to consumers who did not see the influencer ads2.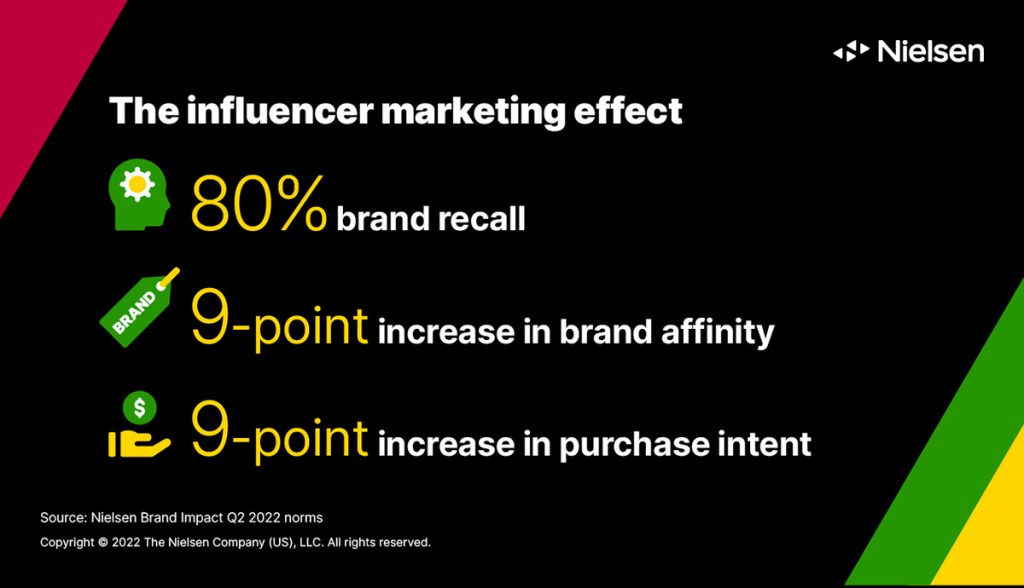 When done right, the strategy is especially impactful with Black audiences—Black adults were 71% more likely to buy products endorsed by influencers on social media3.
For Black consumers, increased inclusion and authenticity can lead to increased loyalty. A 2022 Nielsen identity and representation study found that 40% of Black respondents are more likely to buy products from brands that advertise within content that features someone from their identity group. Brands that focus on authentic Black experiences and amplifying Black voices can become a trusted source for consumers—and the brand they remember when they want to make a purchase.
For additional insights, download Amplifying Black voices in media: Creating informed, thoughtful and authentic experiences.
Notes
Nielsen's international LGBTQ+ inclusive media perceptions study, 2022
Nielsen Brand Impact Q2 2022 norms
Nielsen Scarborough USA+ 2022 Release 1, Consumer POV