In the face of a likely global recession, marketers are under pressure to justify marketing budgets, defend ad spend and deliver returns on their media investments. But the increasing complexity of the media landscape makes tracking and predicting ROI difficult, and only 54% of global marketers are confident in their ability to measure full-funnel ROI. In order to optimize media spend and campaign creative to increase returns on media spend, advertisers first need to understand and identify which executional ROI drivers—like tactics, channels and brand—are important for their target region.
The Nielsen Compass Database shows a significant difference in return on advertising spend by market and region. Top markets can have returns that are 3-6X higher than bottom markets for the same tactic, and at the regional level, the difference between a high and low performing region can be up to 85%.

In general, ROI drivers fall into two categories: executional and environmental. Executional ROI drivers are what marketers can do to optimize ad performance through data-driven decision-making, like budget planning, media channel allocation and in-flight campaign optimization. Environmental factors are the market-specific drivers, like competitive landscape and consumer habits, outside of a marketer's control that nevertheless have an impact on ad performance.
With so much variation in media effectiveness across situations, marketers need to understand major drivers of ROI at the market level to unlock insights that can lift performance.
Top executional ROI drivers

Media planning excellence
Every successful media campaign starts with a solid foundation. Media planning and strategy are essential elements in any campaign, but many marketers fail to realize the impact planning can have on ROI outcomes. Balancing the amount of media support needed with cost and reach is tricky, but brands that are able to dial in optimal levels for each will maximize return on ad spend while lowering overall media costs.
Amount
When it comes to ad spend, most marketers are erring on the side of caution, and timidity is limiting ROI opportunities. A Nielsen study of media plans found that only 25% of channel-level investments were too high to maximize ROI, and within this group, the median overspend amount was 32%. And while reducing spend would improve channel ROI by a modest 4%, brands would also see significantly reduced sales volume due to a drop in ad-driven sales.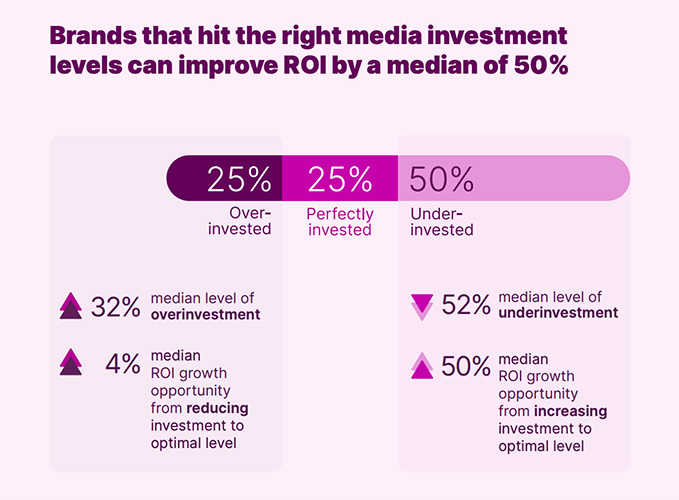 Underspending, on the other hand, is a significant challenge. Nielsen's 2022 ROI Report found that 50% of planned media channel investments were too low to achieve maximum ROI. The median underinvestment level was 52%—a large gap that most brands won't be able to close in a single planning cycle. But brands that do close the gap can improve ROI by a median of 50.3%.
Cost
When it comes to minimizing cost, it's not as simple as choosing the least-expensive media channels, as there is often variation on both cost and performance within even a single channel. Digital video, for example, has a typical range of variation in cost of about 2-3X within a country, according to Nielsen data.
If a premium digital video ad is more expensive than a non-premium ad, for example, but the premium ad has a greater positive impact on ROI, then the higher upfront cost is money well spent. To determine which channels provide the best value and drive the most ROI per market, advertisers need to be able to measure and attribute ROI granulary, so they can optimize channels and tactics for each region.
Targeting
Getting your ad in front of the most receptive audience is critical. Reach and audience composition metrics don't just help marketers understand who they're reaching, they can also help them drive better sales outcomes.
A recent analysis using Nielsen Digital Ad Ratings found that ad partners that served fewer ads to their target audience saw an average ROI of $0.25 per $1 spend, while those who delivered more ads to their target audience realized an average ROI of $2.60 per $1 spent.

Messaging and creative excellence
In a media landscape where consumers have more choices than ever before, staying top-of-mind with consumers often comes down to creative excellence. According to a recent Nielsen study commissioned by Google, ads perform best when they draw attention, feature the brand, connect personally with audiences and direct them to take action. Campaigns that delivered ads following those principles saw a 30% higher sales lift than those that didn't. And the more message and platform testing a brand does will likely increase positive returns.




The complexity of executional ROI drivers and how they change from brand to brand and channel to channel make it critical for advertisers to be able to customize their media plans to their unique situations. And with so many factors affecting campaign execution, the more customization of inputs that marketers consider, the more accurate their ROI projections can be. In fact, Nielsen predictive ROI (PROI) data found that data-driven predictions were up to 65% more accurate than using norms and benchmarks alone.