2022 was a banner year for original content on streaming platforms, as big name titles like Stranger Things, Ozark and Wednesday were among the most-watched programs of the year among U.S. adults. But among women 18-34, a different type of programming was also resonating – classic TV.
Grey's Anatomy, the sixth most-watched program among all adults in 2022, was the favorite among 18 to 34-year-old women, followed by Gilmore Girls; both of which have origins that date back to the early 2000s.
While 18-to-34 year old women certainly watched newer shows as well in 2022 – from Stranger Things to Encanto to Bridgerton – the popularity of shows that debuted – in some cases more than 20 years ago – is unexpected, especially at a time when there is more content available to consumers now than ever before. As of January 2023, TV audiences have more than 926,000 titles to choose from across linear and streaming channels, with more than 821,000 available on streaming platforms, according to Gracenote Global Video Data.
Grey's Anatomy debuted in 2005 and is still airing new episodes on ABC today. Gilmore Girls debuted in 2000 and ended in 2007 (there was a Gilmore Girls: A Year in the Life revival mini series in 2016).
These particular shows are not an anomaly. The Simpsons, Big Bang Theory, How I Met Your Mother and Seinfeld were also among the top 25 most-streamed shows last year among this age group. In total, women 18-34 watched almost 105 billion minutes of the 25 most-streamed programs in 2022, and 14 of those shows began their production runs well before more current hits like Ted Lasso, Yellowstone and Ozark. Comparatively, men 18-34 watched just over 67 billion minutes of the 25 most-streamed programs last year.
Engagement with acquired content has continued into 2023, as the weekly minutes viewed of titles like NCIS, Grey's Anatomy and NCIS on streaming platforms often outpace original streaming shows, according to Nielsen's weekly top 10 listings.
Library content—content that streaming platforms license after it airs somewhere else—can be a streaming platform's secret weapon, simply because of built-in awareness and existing fanbases. In the sitcom space, for example, Seinfeld is widely regarded as one of the most influential shows of all time. And given that its popularity peaked in the 1990s, many might assume that, on streaming platforms, it would primarily attract audiences who watched it on broadcast channels when it originally aired.
Interestingly, that's not the case. In looking at viewership from last year, we see that just over 2% of all women 18-34 who watched Seinfeld watched the comedy series with someone 35 or older. Comparatively, more than 10% of the women 18-34 who watched Bones on Netflix, which originally aired 2005-2017, watched with someone 35 or older. Grey's Anatomy, which debuted in 2005 and is still in production today, is watched more among groups of women 18-34 than with groups including women 35 and older (7% vs. 2.3%). The same is true of The Simpsons, the longest running animated show in TV history (10.6% vs. 2.4%).
In total, 18 of the 25 most streamed programs last year among women 18-34 were programs that streamers licensed from other companies. And this audience streamed just under 77 billion minutes of these shows. Comparatively, 20 of the 25 most streamed programs last year among men 18-34 was library content, but they watched notably less than women: just over 51 billion minutes.
Call it comfort TV
Many television themes today are dark (such as the apocalypse story The Last of Us, the drug addiction tale Euphoria and the workplace thriller Severance). Younger women aren't shying away from these themes (they watched 7.8 million minutes of Stranger Things, 5.2 million minutes of Criminal Minds and 2.8 million minutes of Dahmer last year).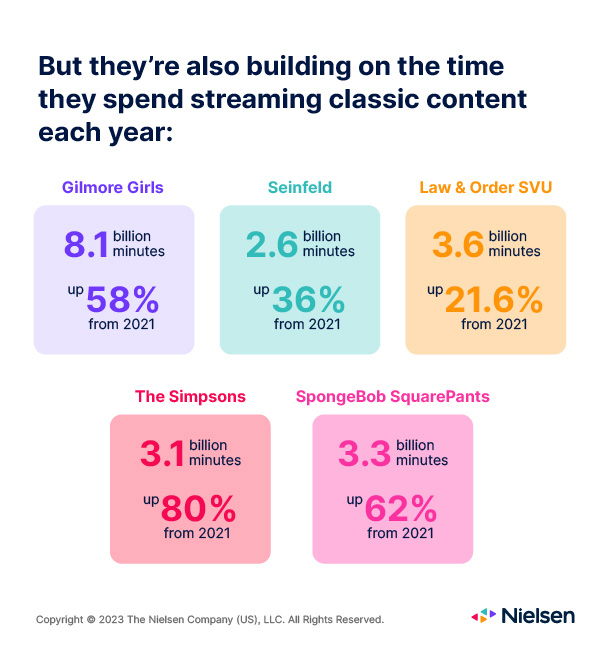 In contrast, men watched just 3 million minutes of Gilmore Girls in 2022 (up 132.6 % from 2021) and 2.1 million minutes of SpongeBob SquarePants (up 71.7% from 2021).
Driving factors
The growth of streaming – now the predominant way audiences consume television – has enabled easy access to more acquired content, including iconic shows like Gilmore Girls. And according to Nielsen's most recent Streaming Content Consumer Survey, the search for content to watch starts with streaming. In fact, 80% of adults 18-34 start their search for video content on streaming platforms, compared with just 68% of adults 18 and older.
Meanwhile, many current television programs have more raw, realistic storytelling than was prevalent in the 1990s and early 2000s, says Brian Fuhrer, Nielsen's television historian. "Some of these powerful programs can be emotionally draining to stream. It can be hard to binge content like that, especially when the world is already so complex today."
In contrast, Cocomelon (an animated show about children's songs) and Bluey (an animated series about a puppy) are easy to digest, although young adults were probably never the target audience. Viewers 18 to 34 years old, however, watched 6.6 billion minutes of Cocomelon last year and 2.9 billion minutes of Bluey.
In the newest phase of the streaming wars, much of the industry is focused on producing high-profile, landmark content as a way to attract audiences. Amazon's Lord of the Rings: The Rings of Power, for example, came in at No. 15 among original streaming programs and is reportedly the most expensive TV series in history.
There is no denying the draw of new original programming, but audiences aren't abandoning the comfort of the classics, especially women 18-34. For this group, what's old is new again.